Discover more from Singal-Minded
A newsletter about science, social-justice-activism, why they sometimes fight, and how to help them get along better -- plus a good deal of other, more random stuff.
Over 30,000 subscribers
Alice Robb Answers Your Questions About Dreams
"Why is it that your significant other will be upset with you if *they* dream about *you* cheating on them? How is that fair?"
In Today's Newsletter:
-Alice Robb, Author Of Why We Dream, Answers Your Dream Questions (Q&A)
-What Was In The Newsletter Last Week (Short)
---
Alice Robb, Author Of
Why We Dream
, Answers Your Dream Questions
A couple weeks ago, you guys sent me a bunch of questions to pass along to Alice Robb, the author of Why We Dream: The Transformative Power of Our Nightly Journey. It's such a good book! It really is. Buy it. (I do need to disclose, for ethical purposes, that Alice is a friend of mine, but still — this is a very earnest endorsement!)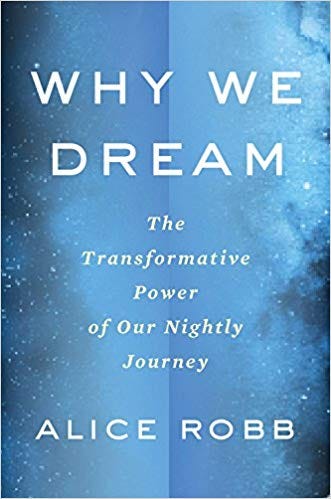 I dropped all the questions in a Google Doc, names stripped, and asked Alice to answer her favorites, and to pick two questions whose askers would receive free copies of her book. Congratulations to Chris and Audrey, and thanks to everyone else who sent in questions, whether or not yours were picked. We'll do this again soon.
In many instances, researchers are interested in a research topic because of something specific from their experience or from a peripherally related interest (e.g., medical research inspired by sick relatives, Dark Triad of personality research inspired by either A) attempts at understanding the self (as said by a prolific writer on that topic) or B) attempts at understanding the happenings of the 20th century). Is there any particular reason why you were interested in researching dreaming? -Chris
This is definitely one of those instances! My reasons for wanting to study/understand dreams were at least partly selfish. I've always had vivid, bizarre, sometimes-disturbing dreams that left me wondering WTF was going on in my brain. When I pitched the book, I'd also had some experiences with lucid dreaming (dreams in which you becomes aware that you're in a dream) and I wanted an excuse to spend more time exploring that and getting better at it. (As part of my book research I went on a ten-day "lucid dreaming retreat" in Hawaii…)
How does dreaming relate to creativity? For those of us in creative professions, is there a way to leverage or interpret dreams that can maximize our connection to the creative sides of our brains? -Audrey
There's a long history of artists and writers — including people like Beethoven, Salvador Dalí, Charlotte Brontë, and William Styron — using dreams in their creative process. Graham Greene's dream diaries were published after he died. Mary Shelley credited dreams with inspiring Frankenstein, E. B. White with Stuart Little.
During dreams, the parts of the brain involved in logical thinking are less engaged. You're working in a wider network of associations and trying out new, more distant connections. You're thinking in a different way. So you're probably already coming up with new ideas in your dreams — but you might not remember them. (Healthy adults dream several times per night, but, on average, recall just one or two a week.) The easiest way to improve your dream recall is to start a dream journal — more strategies in my book!
In talking about dreams, people typically identify "nightmares" as a category of dream. Is there anything beyond the dreamer's (unpleasant) experience or memory of a dream that differentiates nightmares? Are they different in kind somehow? -Abigail
As with a lot of diagnoses, it's not that clear-cut. Most dreams actually have a negative affect — up to four out of five dreams are unpleasant and the most common feelings in dreams include guilt, fear and anxiety. Nightmares are differentiated by how upsetting they are, whether they wake you up or contribute to insomnia. Nightmares can also cause a physiological response (heart racing, sweating, etc. while asleep).
It seems there is a growing interest in researching how meditation and psychedelics might be used to treat conditions like depression and addiction. Do you see a common neural cause for (or at least a connection between) these alternative states of consciousness and dreaming? Thanks. -John
Yes, there are strong (if not fully understood) relationships between these states. For one thing, regular meditation has been shown to improve dream recall, which makes sense because meditating teaches you to pay attention to your environment (whether the real world, your internal world or the dream-world). There are also links between mindfulness/meditation and the ability to have lucid dreams (dreams in which you become aware within the dream that you're in a dream, and can sometimes control the dream — think of Inception). The dreaming brain does bear some resemblance to the brain during a psychotic episode; and in both states, the person believes the dream/hallucination to be real.
Some scientists do treat the dreaming brain as a potential model for the psychotic brain; I spoke to one neuroscientist who hopes that teaching people with schizophrenia to lucid dream could help them recognize when they're in a hallucinatory state.
Why is it that your significant other will be upset with you if they dream about you cheating on them? How is that fair? Also, is this a common/well-studied phenomenon? -Jeffrey
Dreams can feel very real. I think those feelings of annoyance or anger are exacerbated if you don't remember your dreams clearly: If you wake up feeling vaguely upset with your partner, but you don't really know why you feel that way, you're more likely to attribute it to something real. But if you know that they only cheated in a dream, you can process that and, hopefully, dismiss it as just a dream.
There is one small study looking at this. In 2013, Dylan Selterman, a psychologist at the University of Maryland, asked 61 people in long-term couples to write down their dreams every morning for two weeks and answer questions about their feelings toward their partner. It turned out that slights and betrayals perpetrated by dream-partners had an impact on the actual relationship: If a woman had a dream about her boyfriend being unfaithful, for instance, she was less likely to report feelings of intimacy the next day.
---
What Was In The Newsletter Last Week
April 15th: Three Arguments I, An Unapologetic Free-Speech Bro, Am Not Making About Free Speech — In which I respond to three endlessly recited mantras that misrepresent the positions of free-speech and open-political-engagement advocates (free)
April 17th: Bad-Faith Writing Is Bad — Two case studies in the sort of bad-faith writing that's getting published with what feels like increasing frequency in major outlets (paid)
April 19th: Singal-Minded, The Interview: Katie Herzog — An audio interview — the first one I have ever published — with Katie Herzog, a friend and a staff writer at The Stranger who is quite Problematic (audio, free)

If you want to support all this stuff...
---
Questions? Comments? A weird dream you had about me that you really shouldn't share because it's gonna make things awkward between us? I'm at singalminded@gmail.com, or on Twitter at @jessesingal. The lead image, a wonderful photo of "A lion and a lioness sleeping in the Serengeti," comes courtesy of Wikimedia Commons.