Discover more from Singal-Minded
A newsletter about science, social-justice-activism, why they sometimes fight, and how to help them get along better -- plus a good deal of other, more random stuff.
Over 30,000 subscribers
Win A Copy Of A Book About Moral Grandstanding, Unless You're The Sort Of Evil Person Uninterested In This Vital Subject
This one's really good and important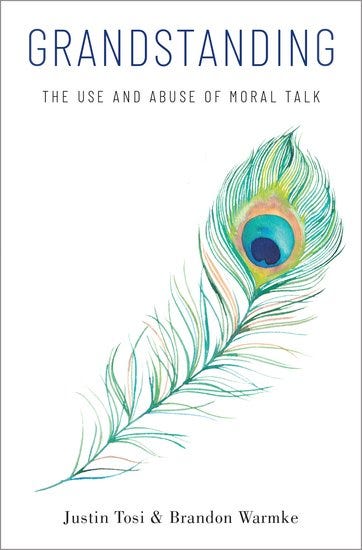 I just got the Covid-19 test. The nasal one. I had heard wildly different things about how unpleasant it is. Honestly? I'm someone who is rendered physically uncomfortable pretty easily (sorry, every dentist I've ever had since I was a child) and I didn't think it was that bad.
This has been my review of the Covid-19 nasal test.
---
If You're Not A Paid Subscriber, Here's What You've Missed Since My Last Free Newsletter
On Seattle's Disastrous Foray Into Policelessness And The Irreplaceable Importance Of Reporting - Part of the reason it took so long for us to get a sense of what a disaster Seattle's autonomous zone was has to do with ideology within newsrooms. But the question of resources looms just as large, because quality journalism is expensive and time-consuming to produce.
The Prospect Of Normalcy Is So Seductive Right Now - On Joe and Kamala (who are… fine) and an election that feels more than anything like an emergency brake to stave off an impending disaster. (This was written before the latest upsurge in violence and I regret to inform you it has aged quite well.)
We Need Strong Free-Speech Protections Because People Like Sean Roberts Exist - There will always be cowardly little wannabe tyrants who seek to punish others for expressing their political views, which is why we should value, and hold separate from partisan politics, free speech laws and norms.
Is Decontextualized Media Coverage Of Donald Trump Helping To Spread The QAnon Conspiracy Theory? - In their rush to warn a public that has mostly never heard of QAnon about the dangers of QAnon, I worry that some journalists are inadvertently making things worse.
What's Going On At The FDA Is Alarming As Hell - Trumpism corrodes and politicizes everything it touches. Some instances of this are scarier than others.
On The Feeling Of All Hell Starting To Break Loose - Everything went wrong in Kenosha and in the coverage of what went wrong in Kenosha.
---
From the publisher, Oxford University Press:
We are all guilty of it. We call people terrible names in conversation or online. We vilify those with whom we disagree, and make bolder claims than we could defend. We want to be seen as taking the moral high ground not just to make a point, or move a debate forward, but to look a certain way--incensed, or compassionate, or committed to a cause. We exaggerate. In other words, we grandstand.

Nowhere is this more evident than in public discourse today, and especially as it plays out across the internet. To philosophers Justin Tosi and Brandon Warmke, who have written extensively about moral grandstanding, such one-upmanship is not just annoying, but dangerous. As politics gets more and more polarized, people on both sides of the spectrum move further and further apart when they let grandstanding get in the way of engaging one another. The pollution of our most urgent conversations with self-interest damages the very causes they are meant to forward.

Drawing from work in psychology, economics, and political science, and along with contemporary examples spanning the political spectrum, the authors dive deeply into why and how we grandstand. Using the analytic tools of psychology and moral philosophy, they explain what drives us to behave in this way, and what we stand to lose by taking it too far. Most importantly, they show how, by avoiding grandstanding, we can re-build a public square worth participating in.
You can see why this one caught my eye! Because it came out right as the world started exploding (and as the stretch run of my own book-writing process began), I wasn't able to give it the attention it deserved at the time. As it turns out, the book is great, so I'm glad to be able to rectify that in two ways. First, I'm recording an interview with Tosi for Blocked and Reported later today which you'll all be able to listen to soon. 
Second, well, you know the drill: Send an email with 'grandstanding' as the subject line to singalminded@gmail.com and I'll pick three entries from those I receive by 10:00 p.m. Eastern time tomorrow, September 1st. Two copies go to anyone who is at least a free subscriber, and the third only to a paid subscriber.
And I hope you will consider buying the book regardless of your luck in the contest.
As for the sort of person who doesn't want to read a book about moral grandstanding? All I can say is that it's hard for me, personally, to even identify with someone who doesn't see the urgent need to increase the level of kindness and understanding in the world. I mean, people are dying.
---
Questions? Comments? Other things I can stick up my nose? I'm at singalminded@gmail.com or on Twitter at @jessesingal.