Discover more from Singal-Minded
A newsletter about science, social-justice-activism, why they sometimes fight, and how to help them get along better -- plus a good deal of other, more random stuff.
Over 29,000 subscribers
Win A Copy Of A Fascinating And Important Book About Education That Is Going To Annoy Many People
"The Cult of Smart" is a broadside against certain pieties within American edu-talk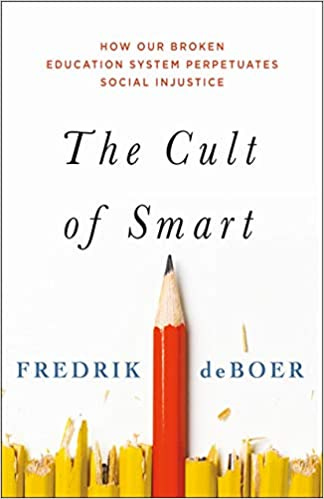 Still hot out. That's the update.
If you're not a paid subscriber, here's what you missed since the last free newsletter:
"I Think Twitter Could Be Causing And Seriously Exacerbating Mental-Health Problems" - In which I lay out a case for why, while other past tech-panics have been silly, there are legitimate reasons to be concerned about Twitter, particularly given the way it targets very vulnerable parts of the human brain oriented toward social life.
"There Is No Such Thing As 'White Culture'" - The 'Black' versus 'black' debate is by no means the most important thing going on in the world, but it helps reveal how race essentialism is taking over within certain elite institutions.
---
If you've been reading me for any length of time, you know I'm a fan of Freddie deBoer. I bring up his writing really frequently. He has a book coming out tomorrow that is going to make a big splash, I am sure.
From the publisher, St. Martin's:
Everyone agrees that education is the key to creating a more just and equal world, and that our schools are broken and failing. Proposed reforms variously target incompetent teachers, corrupt union practices, or outdated curricula, but no one acknowledges a scientifically-proven fact that we all understand intuitively: academic potential varies between individuals, and cannot be dramatically improved. In The Cult of Smart, educator and outspoken leftist Fredrik deBoer exposes this omission as the central flaw of our entire society, which has created and perpetuated an unjust class structure based on intellectual ability.

Since cognitive talent varies from person to person, our education system can never create equal opportunity for all. Instead, it teaches our children that hierarchy and competition are natural, and that human value should be based on intelligence. These ideas are counter to everything that the left believes, but until they acknowledge the existence of individual cognitive differences, progressives remain complicit in keeping the status quo in place.
I read this one months ago, after deBoer sent me a galley. It is a very good, informative, provocative book. FdB is such a clear writer that I found myself basically blazing through it. People are going to be very unhappy with deBoer for pointing out what he points out, but, because his case is so strong, they're going to misrepresent his argument a ton to try to make it out to be sillier than it is, I bet.
That's all I really need to say: Buy this book. Read it. Listen to my interview with deBoer about it. Or this separate part of the interview where he talks about Twitter and mental health.
Or try to win a copy. Send an email with the subject line 'cult' to singalminded@gmail.com and I'll pick three at random. As always, the first two go to whoever I pick (as long as they are at least a free subscriber) and the third is reserved for a paid subecriber. I'll draw from all the entries I receive by 10:00 p.m., Eastern tonight and notify the winners by 9:00 a.m., tomorrow, so that non-winners can go ahead and order a copy.
Good luck!