This Book Of Haikus About The Elements Is Cool And I Have Three Copies To Give Away To You
Enter! Win! Rejoice!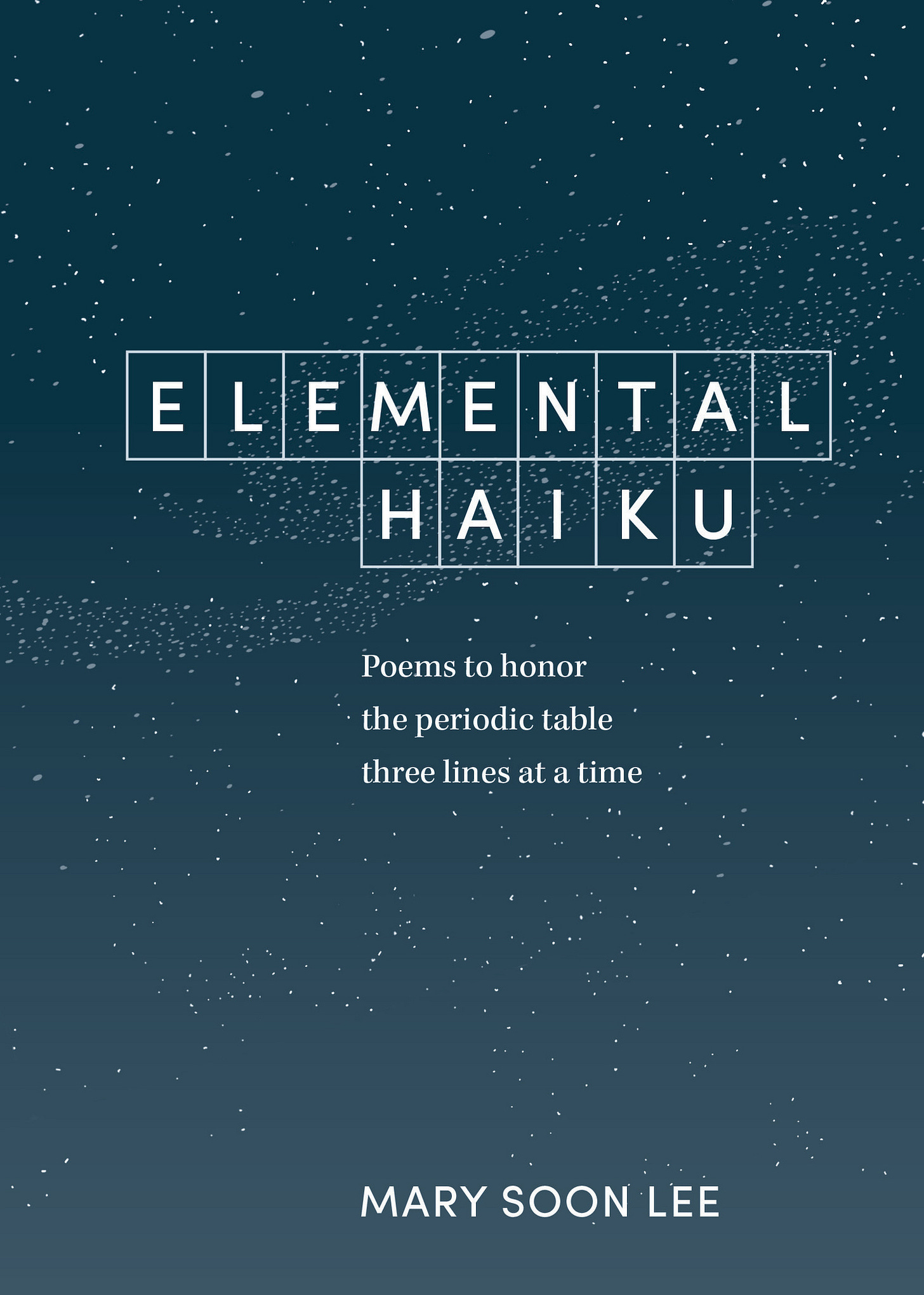 I am fortunate to receive a lot of books in the mail — far more than I can realistically cover or read — and recently, a slim little one immediately jumped out at me. Elemental Haiku: Poems to honor / the periodic table / three lines at a time (get it!?) is exactly what it sounds like: It's a book of haikus about the elements of the periodic table (yes, all of them). And it's out tomorrow.
Elements? Love 'em. Not to get sappy but I feel like I couldn't even live without 'em. Haikus? Feel the same way. So this is a really clever idea. The haikus themselves are quite good, and the author also includes some interesting facts about each element.
Here's the page dedicated to nickel: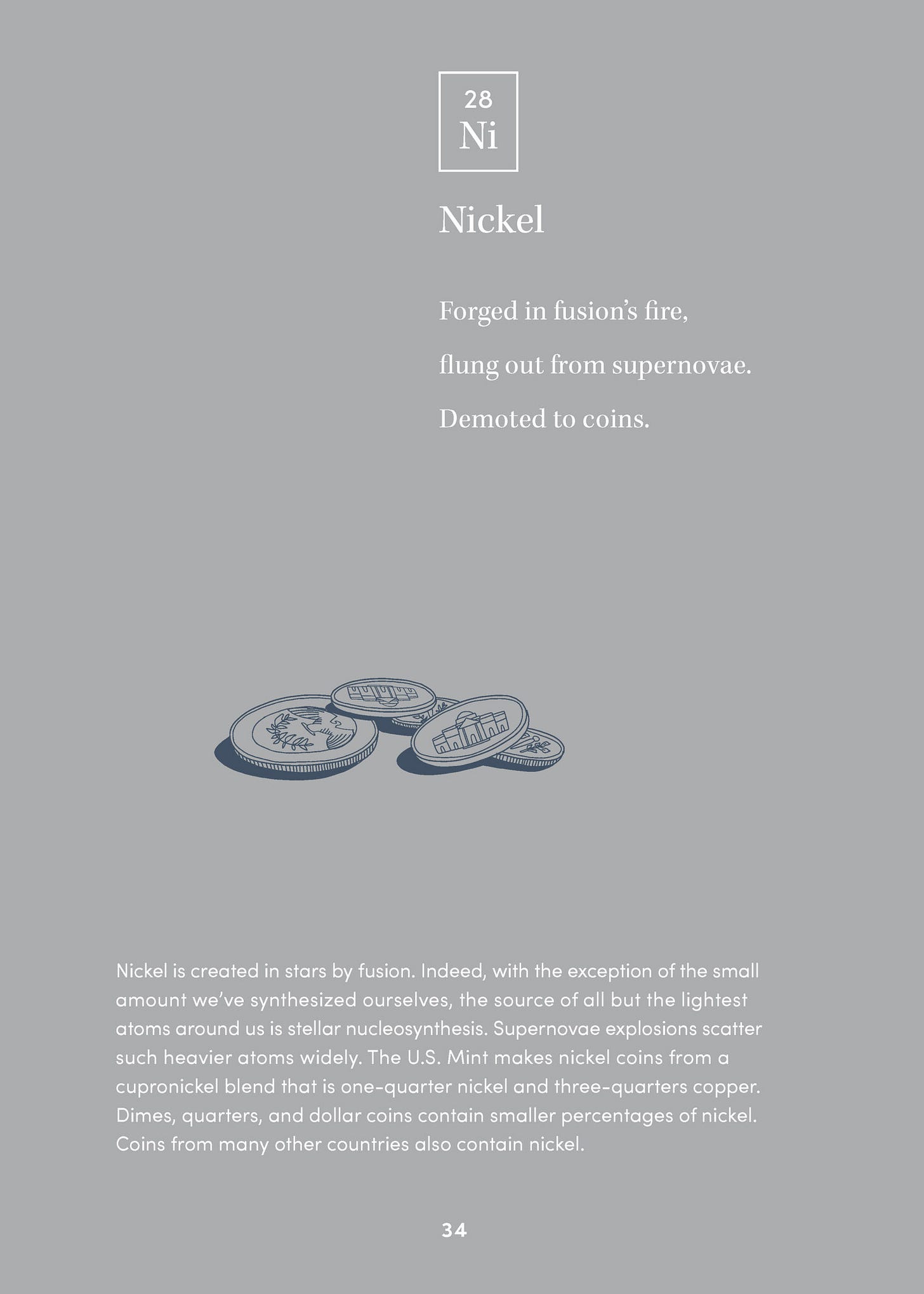 (Poor nickel!)
And here's the one for seaborgium, a fickle and flighty element which sounds made-up but which I assure you in fact exists: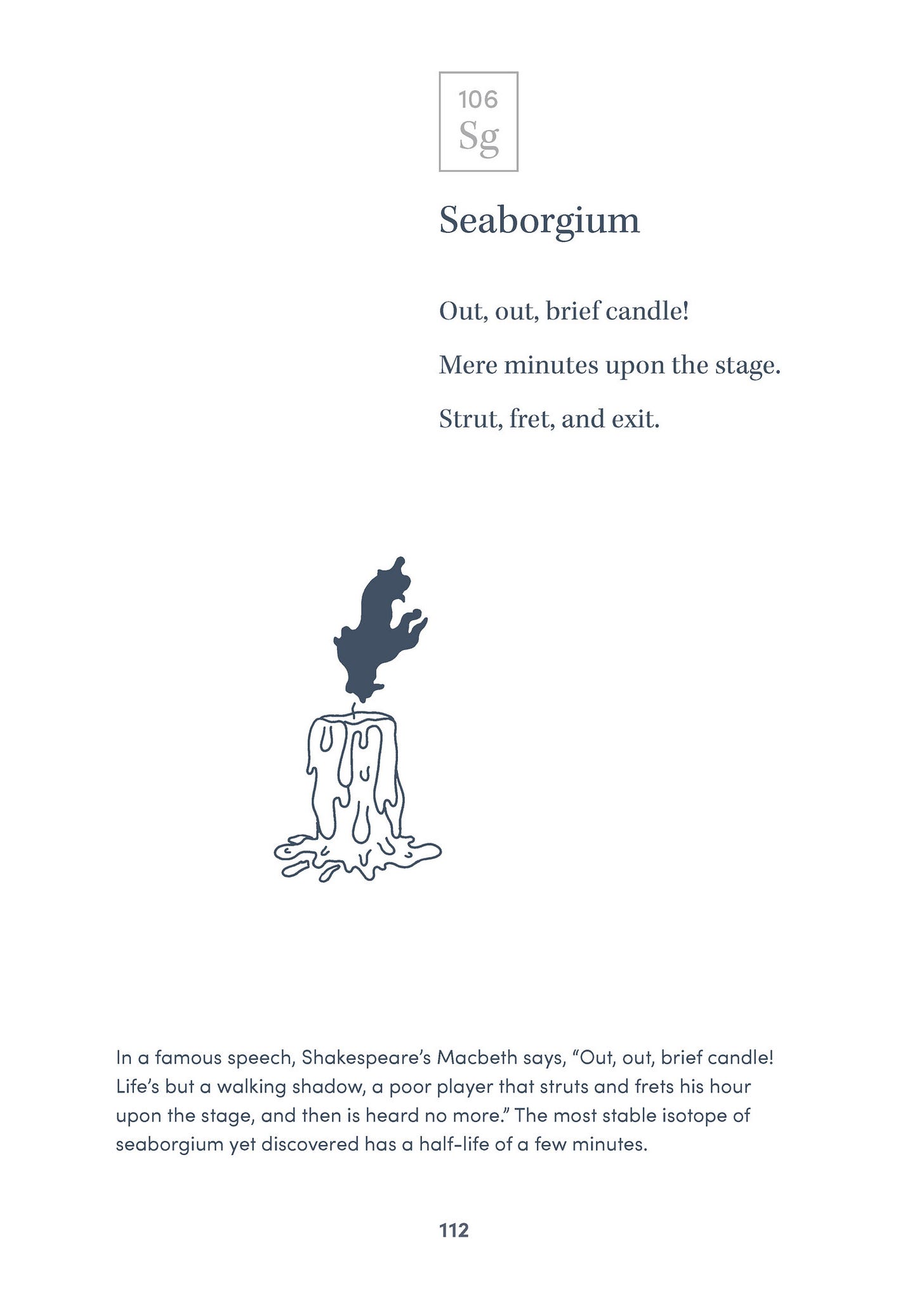 I've got three copies of this book to give away to Singal-Minded readers, paid and free subscribers alike, courtesy of the publisher, Ted Speed Press. Simply send an email with the subject line 'elemental' to singalminded@gmail.com by 8:00 pm Eastern time today, September 30th (happy birthday, Gabe!).
Remember that whenever I have more than one copy of a book to give away, one copy is reserved for paid subscribers. So in this case, with three copies, I'll do one drawing in which whoever I pick wins (as long as they're a subscriber of one form or another), a second with the same system, and then, for the third one, I'll keep drawing until I hit upon a paid subscriber. In other words, paid subscribers gain access not only to more of the soothing gentle spring rain and incredible facility for metaphor that is my word-stuff, but also to more chances to win free books. What an incredible deal!
---
Haikus reprinted with permission from Elemental Haiku: Poems to Honor the Periodic Table Three Lines at a Time by Mary Soon Lee copyright © 2019. Published by Ten Speed Press, a division of Penguin Random House, LLC.