Discover more from Singal-Minded
A newsletter about science, social-justice-activism, why they sometimes fight, and how to help them get along better -- plus a good deal of other, more random stuff.
Over 29,000 subscribers
You Narrowly Dodged My MAGATeenGhazi Take! Well, Mostly
Did the three-day weekend feel like six months to anyone else?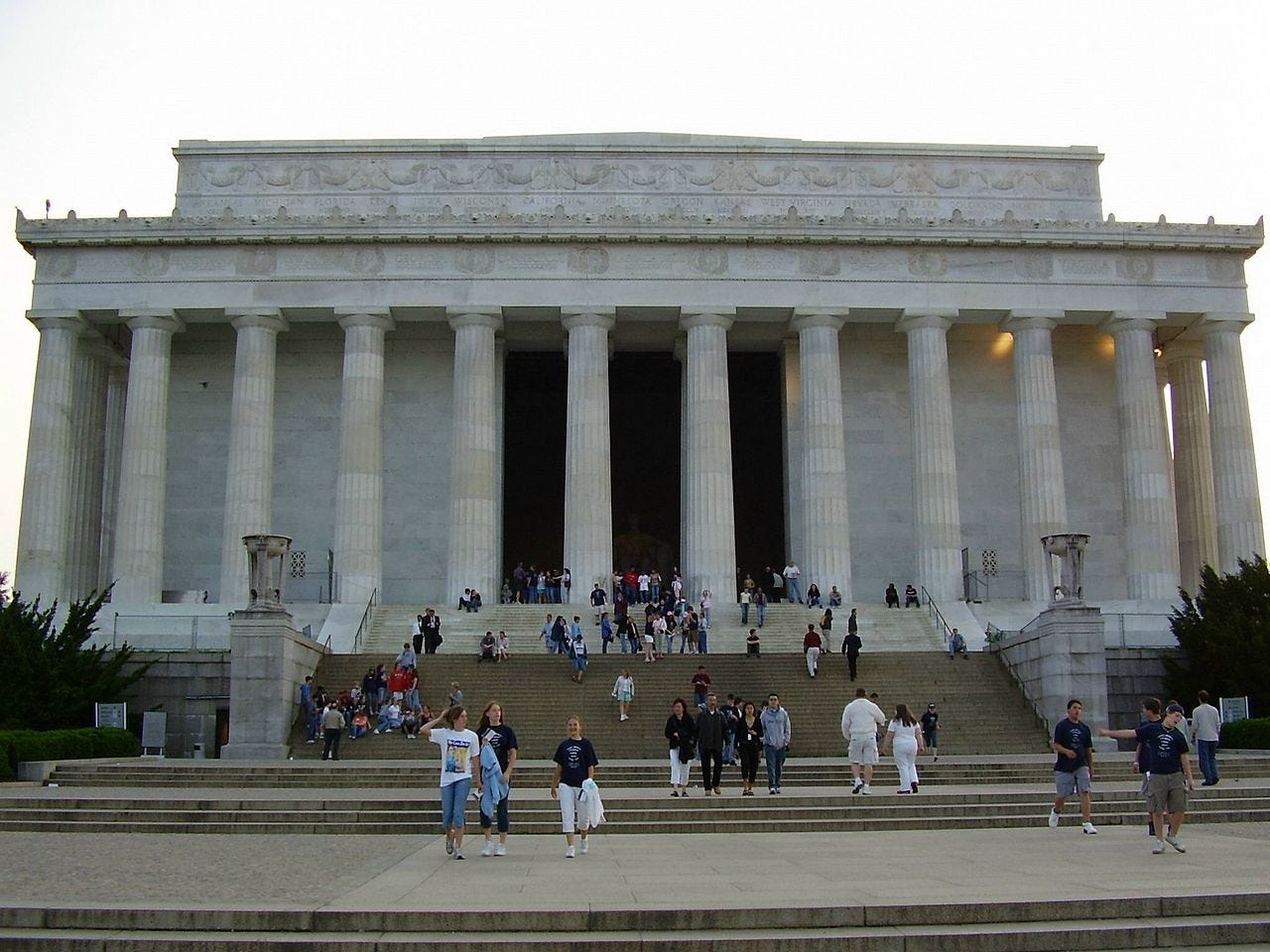 (Oh, look — it's a photo of the Lincoln Memorial that doesn't instantly fill me with anxiety and the sense our nation is coming apart at the seams! That's nice. Via.)
---
Monday night, I had the pleasure of going to a place called We Are Georgians in Gravesend, Brooklyn (or maybe Bensonhurst? I dunno). In case you didn't pick this up from the name, they serve Georgian-as-in-the-country food there. It was a painfully freezing night and my dining partner and I headed south in search of one thing: khachapuri. Khachapuri is an invention that makes penicillin look like the vuvuzela. Everyone's life has two phases and two phases only: The dumb, pointless part before they try khachapuri, and the happy, fulfilled part after they do. It's literally just a freshly baked boat of bread — it's really shaped like a boat! — and ensconced in that boat, waiting patiently to make the voyage into your stomach, are disgustingly wonderful quantities of cheese, eggs, and, because clearly this dish wouldn't provide enough cholesterol otherwise, a couple pats of butter. It comes out piping hot and you use a fork or whatever to mix everything together into a gloopy stretchy calorie-bomb orgasm.
Look at it. LOOK AT IT: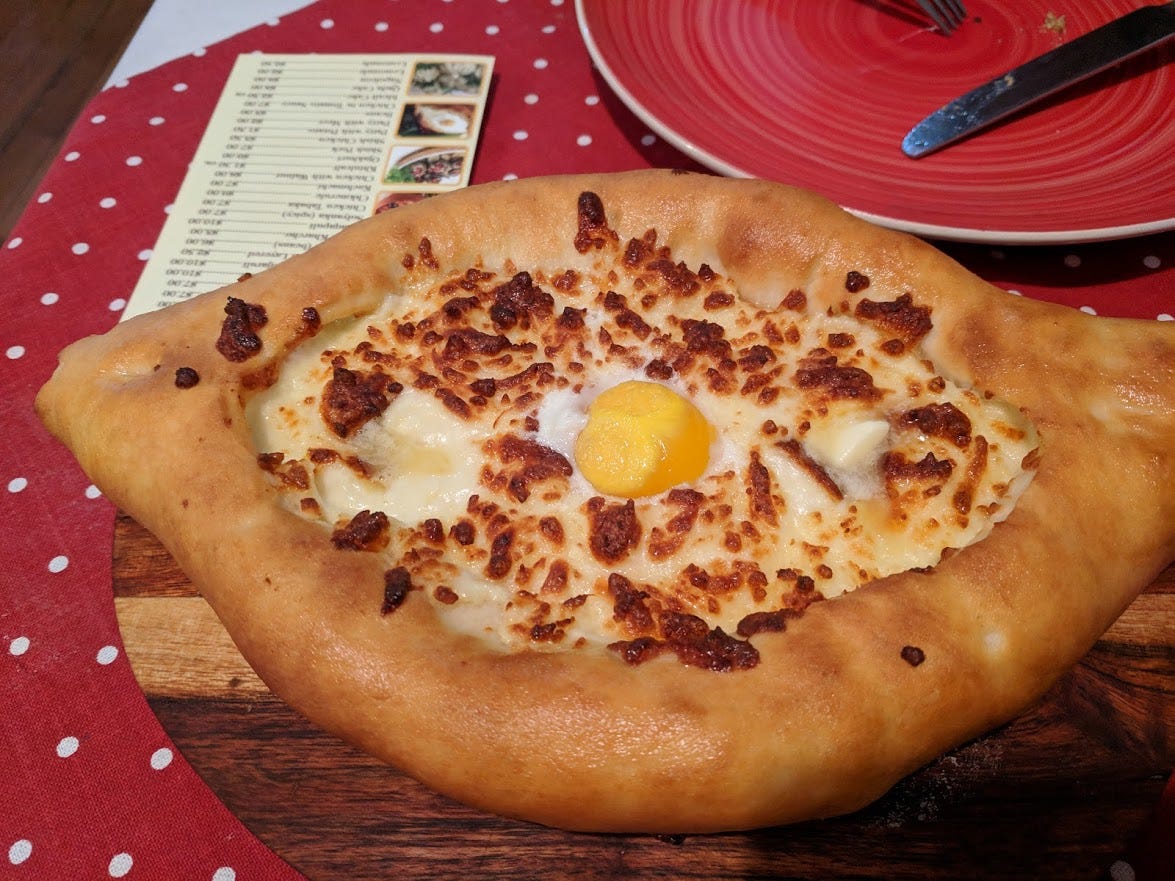 Everything is going to be okay.
Admin Stuff
This newsletter has a new email address. From now on, email me at singalminded@gmail.com. No, I'm not trying to sneak in a naming announcement — I still haven't decided, but I like the idea of at least using Singal-Minded for email. It'll help me keep things a bit more organized to have a dedicated email address for the newsletter, anyway. Also, do me a favor and if you email me, note 1) whether I can potentially use what you sent me in the newsletter; and 2) how you'd like me to refer to you — full name, first name, Twitter handle, "Dr. Foppypants," whatever — if I do. That'll potentially save a followup email and response.
For now, you have narrowly dodged my MAGATeenGhazi take. Readers were pretty torn on this one, and sometimes had such strong feelings that they put them right in their email subject lines — "No takes on that thing!'" came in at 5:02 Monday evening, and "Yes write the Lincoln-Memorial Take'" arrived just 43 minutes later. Another reader sent in an email with the subject line "Noooooo" and, sadly, I instantly knew what they were referring to. (That one arrived at 4:21 Tuesday morning, my time — I have no idea what timezone the reader is in but I like the idea of them bolting awake early in a cold sweat, worried about the idea of me writing about this subject, and rushing to their laptop to do their part to avert catastrophe.)
I've found this to be just be a soul-destroying story on every level. I'll leave it at that. Except.
Here's a Smart Reader Email About… MAGATeenGhazi
I said I wasn't going to provide my take. But Max, a reader, sent in a good email on the subject that I think is worth sharing. Well, it's less about MAGATeenGhazi itself, and more about the strange and unsettled milieu in which it occurred and in which we are all trapped. Here's most of it, lightly edited — I also added a link and stitched on part of a second, much shorter email he sent me after I replied:
One of the problems I have when I see people talking about the Covington kids is that a lot of the context that has come out later is somewhat but not fully exonerating. So that makes it hard to have a discussion about why what happened is so awful. I've seen a lot of responses to the effect of "even though a lot of the initial allegations turned out not to be true, there was definitely racist chanting going on." And maybe there was, and maybe these kids are jerks, but this whole national outrage over all of this is still vastly disproportionate. 

And then someone found some images of the blackout [basketball] game from 7 years ago, and one kid's face paint looks plausibly like blackface. I don't know who this kid is, and it's possible he was doing something racist! I have no idea! Maybe there IS a toxic culture in this school!

One of the communication strategies I tried to get across to a friend of mine who would ramble too much was that "nuance is a finite resource." That just like time, money and column inches, nuance is something that can only be delivered and received in finite quantities. Then how do you talk about something like this which can only be understood with full nuance? I don't want to say these kids did nothing wrong, because that's likely not true, but this whole situation was incredibly difficult in the first place. A lot of people look at the evidence and say that it is not exonerating enough, but the fact that it got to this point, and that you shouldn't be harassing children even if they did something wrong, but especially not for this level of wrong, and still not for the initially claimed level of wrong, but the initially claimed level is still worse is just a hard point to get across, and I don't know how to do it!

…

I think the question is how do we scale down from "bad and national-scandal-worthy" to "bad but not national-scandal-worthy"? It's a hard problem, and a somewhat unusual one, but one we certainly did not handle well in this round.
In short: Yes. I spend way too much time thinking about social media because I spend way too much time on Twitter, and one of Twitter's most salient characteristics is that a bunch of people with different norms, different values, different priorities, and different interpretations of the same events — even when everyone is looking at the same video! — are all yelling and fighting and joking and clamoring for influence and attention within the same public online space.
This makes it really hard to adjudicate important questions. They just linger there unresolved, fueling further conflict and outrage when different people declare different answers. What's an appropriate level of further punishment for a wrongdoer, once the online-shame-train has already left the station? Can we come to some agreement on the approximate severity of what happened? Are journalists who have Twitter personas that exist semi-independently from their professional identities doing the right thing in ambiguous, fast-moving situations? A million answers, no consensus, a lot of yelling and freaking out. And it's not going to get better.
In not just this situation but any other emotionally charged one involving social media, the subset of people who believe nuance is called for — and sometimes, to be sure, nuance isn't called for! — will be at a disadvantage. I've started to think about Twitter, and probably other forms of social media, as basically a repeating game in which each round, new people exit, enter, gain or lose influence, and so on (I doubt this is an original analogy). Over the long run of many iterations of this game, the sorts of people who write emails like Max's tend to get drummed out, because the platform doesn't generally reward them for standing up to big waves of outrage and in-group consensus. If anything, they get punished; nuance-mongers tend to have a hard time. And this is a problem, because there is a subset of elites who do spend all day on Twitter, and whose views of the world are disproportionately influenced by the warped images produced by all these deeply unhealthy and often antisocial dynamics.
This is what happens when I try to not write about MAGATeenGhazi. I want more khachapuri, please.