Discover more from Singal-Minded
A newsletter about science, social-justice-activism, why they sometimes fight, and how to help them get along better -- plus a good deal of other, more random stuff.
Over 30,000 subscribers
A Great Short Paper About Prison Education, And Tell Me If You Want My Lincoln-Memorial-Mess Take
I'll do a take. I swear I will! If you want it.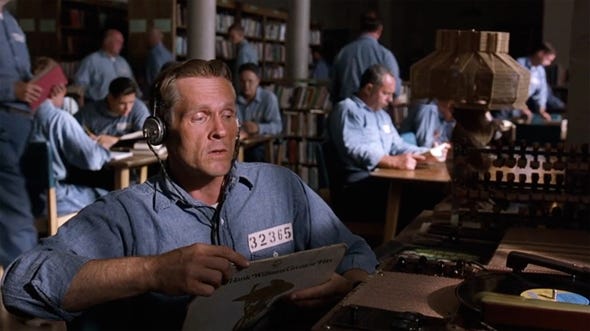 (
"In this album, we'll teach you how to lead-author a rigorous econometric analysis proving that from a taxpayer perspective, the prison library in which you presently sit will pay for
itself
in just a few years."
[Still from "The Shawshank Redemption"
via
.)]
The Patriots prevailed in heart-stopping fashion, and I greatly enjoyed watching them do so [loses 500 subscribers].
---
Admin Stuff
One post a day won't be the norm. Early on, as I try to figure out what this newsletter is, there's a chance I'll get into certain posting habits that won't prevail in the long run. These first few days, for example, which have coincided with a three-day weekend, I've been sending out a newsletter a day. That schedule won't be sustainable later on, but for now there are various benefits to publishing more rather than less of these.
Do you want my Lincoln-Memorial-Mess Take? I don't know the extent to which I'll be covering current events in this newsletter. I'm somewhat torn on that front. I do have some thoughts on the Lincoln-Memorial mess, the factual basics of which are pretty nicely and fairly summed up by Josh Marshall here.
My take would have a lot to do with the ideas raised in these tweets:
Thoughts? Email me at jesse.r.singal@gmail.com if you have strong feelings one way or another. It's genuinely useful to me to hear what sorts of content my early subscribers do and don't want to see. I promise I'll stop needily asking you for your feedback — eventually. Once I have a better sense of what this newsletter is and what works and doesn't.
Thanks for sending in so many name ideas. There were a lot! Some were great, some were meh (says the guy leaning toward "Singal-Minded"), some have me wondering if I should contact the authorities. But the sheer volume was an excellent sign, because whether and to what extent this newsletter succeeds will depend a great deal on reader engagement. Thanks to all, and keep 'em coming if you have more ideas. When I have something to announce on this front, I'll do so — ideally from a medieval tower, before an audience of thousands, with the final decision accompanied by an ostentatious trumpet flourish and the release of 500 doves.
You Should Read This Short Paper About Prison-Education Research
Earlier today a Twitter-buddy who is a psychologist sent me a great paper that was just published in Perspectives on Psychological Science called "Science and Justice: A Fragile, Fraught, and Essential Relationship." Written by Michelle Fine, a social psychologist at City University of New York's Graduate Center, it's short and unpaywalled — for the moment, at least — and you should read it. You should especially read it if you're engaged in social-justice activism or social-science research or social-justice-oriented social-science research, because it has some important lessons for people in those lines of work. (Side-note, but I want to apologize to my Twitter-buddy tipster for, the one time we met in person, at a Lower-Manhattan beer hall when she was in town, ordering a giant pretzel "to share" and then consuming 80% of it.)
There's no need for me to do a long summary of the paper given how short it is. Briefly, Fine explains how, after Bill Clinton signed the Violent Crime Control and Law Enforcement Act of 1994, the Pell Grant program "no longer provided college grants for persons in prison." This had a devastating impact: Within a year, the United States' 350 college-in-prison programs had dwindled to a grand total of eight. Spurred by some timely activism on the part of prisoners at Bedford Hills Correctional Facility, a "maximum-security facility for women in New York State," Fine ended up heading a research effort geared at reviving a college program there and measuring its impact, and this quickly became a team effort involving faculty members at multiple universities.
What follows is a really good example of how to do social-science research on a particular subject while looping in, and in some cases integrating directly the efforts of, as many stakeholders as possible. Fine comes across as very interested in building social relationships and avoiding the trap certain aloof researchers constantly fall into: "I'm a scientist looking down on this subject, studying it from afar, and I might not have much time to communicate with the people directly affected by it." For instance, Fine used Bedford Hills inmates themselves as some of her coresearchers, and some of them came to work for her post-release.
But my favorite example has to do with Fine's attempts to reach out to a group that could have stymied her efforts: victims' rights advocates, who have a general tendency toward favoring harsher sentencing and punishment of convicted criminals. Instead, here's the paragraph Janice Greishaber, "mother of a murder victim and, as executive director of the The Jenna Foundation for Non-Violence, a major advocate of long sentences for men and women convicted of violent crimes," provided after Fine asked her to contribute a blurb for Changing Minds, the final report prepared as a result of the Bedford Hills research effort:
Educating the incarcerated is not an exercise in futility, nor is it a gift to the undeserving. It is a gift to ourselves and to our children, a gift of both compassion and peace of mind. It is a practical and necessary safeguard to insure that those who have found themselves without the proper resources to succeed have these needs met before they are released. We are not turning the other cheek to those who have hurt us. We are taking their hands and filling them with learning so that they can't strike us again.
Fine writes that her "eyes filled with tears" when she first saw Greishaber's email on her monitor, and it's easy to see why.
Of course, all this savvy and thoughtful social-connecting is important, but at the end of the day the most important thing Fine and her colleagues did was provide solid evidence for the bang-for-the-buck utility of prison-college programs. Here's her summary of one of their main findings:
Attending college in prison significantly reduces reincarceration rates and saves taxpayers' money. In our collaboration with the New York State Department of Correctional Services, we commissioned a study that tracked 274 women who attended college while in prison and compared them with 2,031 women who did not attend college while in prison, controlling for the crime committed and education level at the time of prison entry. Women who attended college while in prison were significantly less likely to be reincarcerated (7.7%) than those who did not attend college while in prison (29.9%). Michael Jacobson, a prominent criminologist and policymaker, conducted a cost-benefit analysis for a hypothetical 100 women, estimating annual costs of additional incarceration to be $30,000 and annual cost for college in prison to be $2,500. Jacobson determined that providing access to higher education for incarcerated women and men was far more cost-effective than reincarceration, foster care for the prisoners' children, the health complications that come with reincarceration and aging, and diminished employability. [emphasis in the original]
This is a really nice, short paper, and, again, I recommend it. Oh, and here's a link to the Public Science Project, which Fine co-founded and which deals with these issues, and here's a link to her book, Just Research in Contentious Times: Widening the Methodological Imagination.